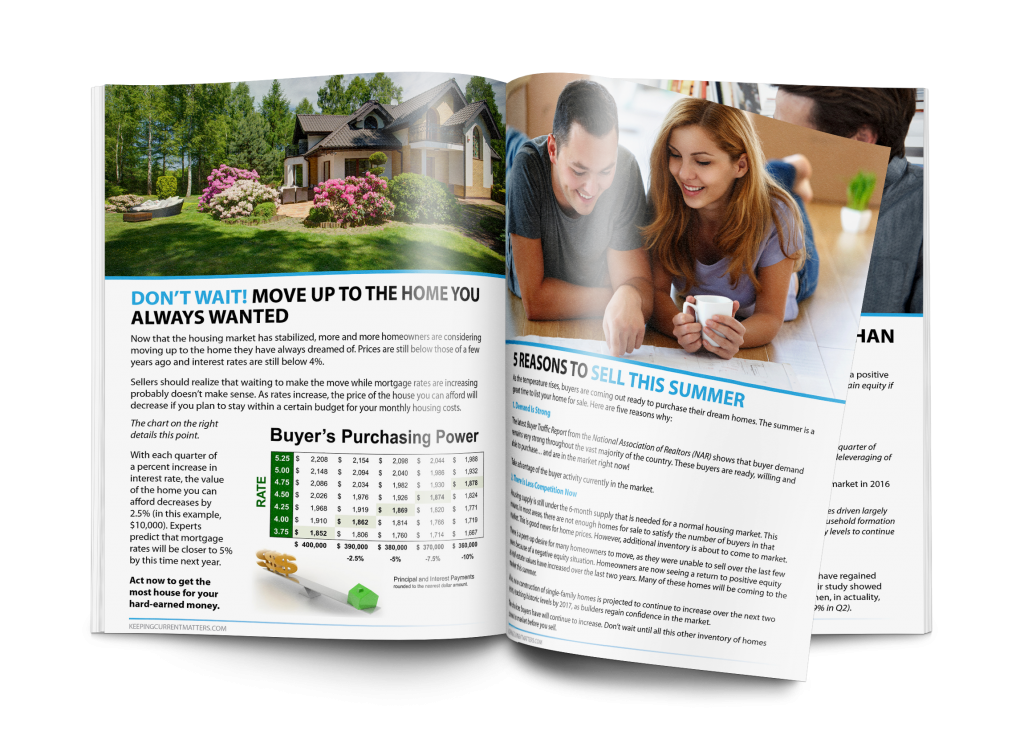 In this edition of the Home Sellers Guide seasonal series for Summer 2016, we look at 5 reasons to sell your Vero Beach home this summer, how to get the most money from that sale, where the home prices are headed, the importance of using an agent when selling your home, and much more.
Take a look at what is inside in the Home Sellers Guide in Summer of 2016 and order yours today. It is FREE!


What is inside the Home Sellers Guide Summer 2016
5 REASONS TO SELL THIS SUMMER

As the temperature rises, buyers are coming out ready to purchase their dream homes. The summer is a great time to list your home for sale. Here are five reasons why.

HOW TO GET THE MOST MONEY FROM THE SALE OF YOUR HOME

Every Vero Beach homeowner wants to get the most from selling their home. But how do you guarantee that you the most for your house? Read about the 2 key elements to ensuring you get the highest price possible.

LACK OF LISTINGS SLOWING DOWN THE HOUSING MARKET

This will again be another year that the housing market will race forward. However, there is one thing that may cause a slow down: a lack of inventory. While buyer demand remains strong throughout the summer, the supply is not keeping up. See what the industry experts expect to happen.

THE IMPORTANCE OF USING AN AGENT WHEN SELLING YOUR HOME

When a homeowner decides to sell their house, they obviously want the best possible price with the least amount of hassles. Find out why using a real estate professional helps you accomplish these objectives.

HOME PRICES: A 5 YEAR OUTLOOK

Many real estate conversations center on housing prices and where they may be headed. The Home Price Expectation Survey compiled from expert opinions shows a cumulative appreciation of 17.5% by 2020. Find out more by downloading this special summer 2016 edition of the Sellers Guide.

HOME EQUITY: YOU MAY HAVE MORE THAN YOU THINK

Price Appreciation is Good News for Homeowners, but many homeowners are not aware that they have regained equity in their home as their investment has increased in value. Find out about your home's value here.

DON'T WAIT! MOVE UP TO THE HOUSE YOU ALWAYS WANTED

More and more Vero Beach homeowners are considering moving up to the home they have always dreamed of. Prices are still below those of the boom years and interest rates are still at historic lows. Find out how you can take advantage of today's real estate market.

BABY BOOMERS FINDING FREEDOM IN RETIREMENT

Within the next few years, Baby Boomers are projected to have the largest household growth of any other generation during that same time period, according to the Joint Center for Housing Studies (JCHS) at Harvard University. Take a look at why the place you currently live is no longer determined by responsibilities, but rather a freedom to live wherever you would like to.
You will find a lot more information in this NEW seasonal edition of the Home Sellers Guide Summer of 2016 by entering your contact information below.