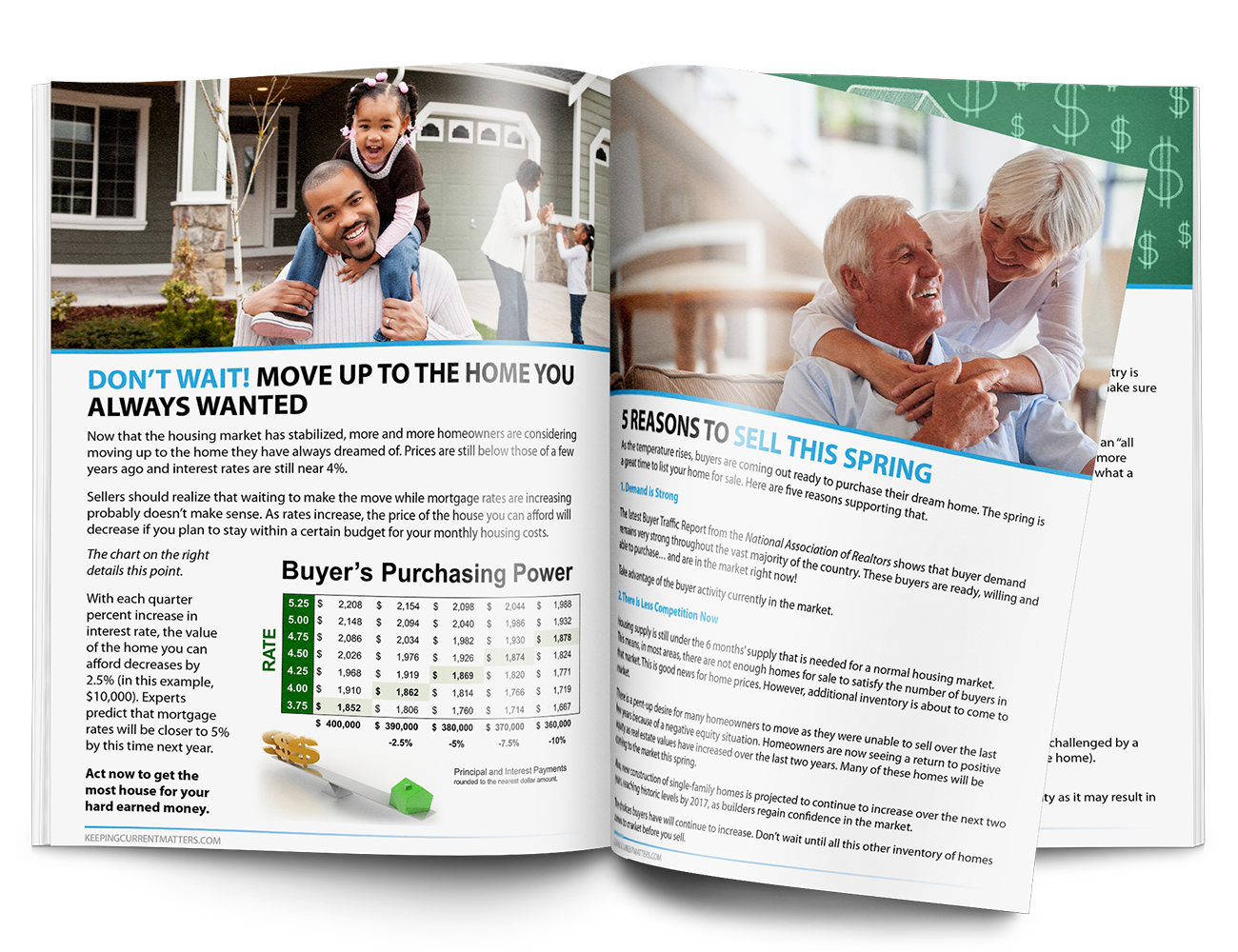 In this edition of the Home Sellers Guide seasonal series for Spring 2016, we look at why spring is a good time to sell your Vero Beach house, the impact of rising prices on home appraisals, the importance of using a real estate professional when selling your home, and much more.
Take a look at what is inside in the Home Sellers Guide in the spring of 2016 and order yours today. It is FREE!


What is inside the Home Sellers Guide Spring 2016
5 REASONS TO SELL THIS SPRING

Spring is a great time to list your home for sale. Find out the five reasons why.

LACK OF LISTINGS IS AFFECTING THE HOUSING MARKET

Home values are up and home sales are up. Distressed sales have fallen dramatically and 2016 will be the year that the housing market again moves forward.

DO I HAVE ENOUGH EQUITY? YOU MAY HAVE MORE THAN YOU THINK

The latest Equity Report from CoreLogic revealed that 256,000 mortgaged households recently regained equity. This is great news as 92% of all mortgaged properties are now in a positive equity situation.

HOW TO GET THE MOST MONEY FROM THE SALE OF YOUR VERO BEACH HOUSE

Every homeowner wants to make sure they maximize the financial reward when selling their home. But how do you you receive maximum value for your house? Find out the 2 keys to insuring you get the highest price possible.

WHY IS IMPORTANT TO USE A REAL ESTATE AGENT WHEN SELLING YOUR HOUSE

When a homeowner decides to sell their house, they obviously want the best possible price with the least amount of hassles. Find out why using a real estate professional helps you accomplish these objectives.

HOME PRICES OVER THE LAST YEAR

The Federal Housing Finance Agency (FHFA) reports on the Year-over-Year changes in home prices. Look at the report to find out home much prices are up year-over-year in Florida.

THE IMPACT OF RISING PRICES ON HOME APPRAISALS

The fact that residential home prices are increasing substantially in most regions of the country is music to the ears of homeowners. However, if you are in the process of selling your home, make sure you realize the major challenge a hot real estate market creates. Find out why each house must be sold twice!

A 5 YEAR OUTLOOK ON HOME PRICES

Every quarter, Pulsenomics surveys a nationwide panel of more than 100 economists, real estate experts and investment and market strategists. Look at this report to see where prices are headed over the next five years.

5 REASONS YOU SHOULDN'T FSBO

In today's market, with home prices rising and a lack of inventory, some homeowners may consider trying to sell their home on their own, known as a For Sale by Owner (FSBO). There are several reasons why this might not be a good idea for many sellers.

WHAT TO DEMAND FROM YOUR REAL ESTATE AGENT

Look at these top 5 demands to make of your real estate agent when selling your house.
You will find a lot more information in this seasonal edition of the Home Sellers Guide by entering your contact information below.