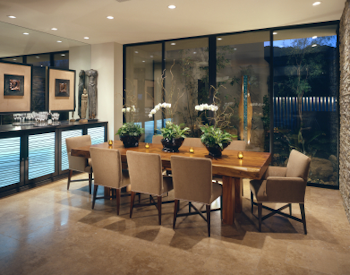 Home décor stores provide numerous options for decorating walls and horizontal surfaces, but buying ready-made works of art is not necessary when decorating a dining room or any space in the home.
It is possible to come up with budget decorating ideas that look anything but budget priced. Consider the following budget ideas for a decorating a contemporary dining room, and come up with high-class contemporary dining room décor for far less than imaginable. Give the space a completely new look without spending a lot of money on overpriced overrated store-bought art and designer home furnishings.
Dress the Dining Room Walls with Color
To get the most bang for the buck when decorating a contemporary dining room, begin by decorating the walls with paint. Wall paint is by far one of the least expensive ways to change the entire look of any room in the home, and paint can fit into almost any decorating budget. Paint the dining room walls white for a clean crisp contemporary look, or add warmth and drama with color. Opt for walls of the same color, or create an eye-catching focal area by painting one dining area wall a different color. Use the focal wall for decorating with unique budget wall décor. If adding bright or bold colors or a combination of colors seems a little too daunting, play it safe with lighter shades. Bolder colors can be added to the dining room with the addition of budget priced contemporary art. This is a way to introduce color without commitment.