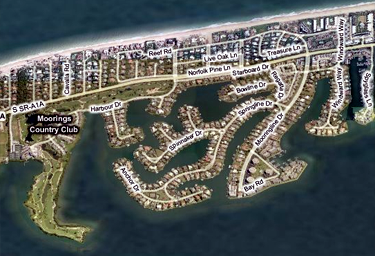 The Moorings in Vero Beach Florida is a unique community on the barrier island of Vero Beach that caters to both boaters and golfers alike. The Moorings community is situated on a tranquil stretch of pristine real estate between the Indian river and the Atlantic ocean. A wide variety of homes and condominiums is available at the Moorings.
The Moorings community complex includes oceanside communites, riverfront communities and the exclusive gated community, the Anchor. View selected homes for sale in the Moorings of Vero Beach Florida below:
Oceanfront Properties
Riverfront Properties
Best Priced Properties
The Moorings boating community
Planned before the DPA restrictions on waterfront development, The Moorings on the south island in Vero Beach was designed with multiple wide canals fronted by seawalls that achieve maximum numbers of single family home and condominium waterfront properties with deep water docks for all sizes of watercraft including sailboats and yachts offering a deep channel access to the Intracoastal.

The residents of the Moorings enjoy access to a full service marina for watercraft from 35ft to 100ft. Fishing is abundant with tarpon, red fish, trout, and snook in the Moorings flats depending on the season.
View available riverfront homes for sale at the Moorings in Vero Beach
The Moorings for Golfers
This beautiful golf course in the Moorings of Vero Beach is the only executive course designed by Pete Dye and is the center piece of the stunning Moorings Club. It offers waterfront panoramas of the Indian river and 4,338 yards of golf from the longest tees for a par of 64.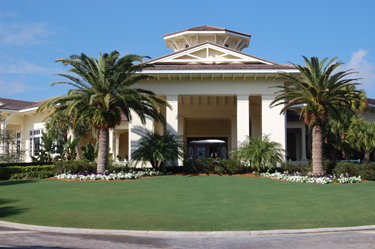 The Moorings also offers world-class amenities for its residents. The beautifully renovated Moorings Country Club offers fine dining, informal dining, fitness center, large heated pool and tennis courts.
The Moorings golf and country club offers a variety of membership packages.

The Moorings Communities
Anchor
Anchor is an exclusive gated community in the Moorings. It is an enclave of luxury waterfront homes with many offering deep water docking facility that can accommodate large yachts.

Selected homes for sale at the Anchor in The Moorings of Vero Beach Florida ===>
Floranton Beach
Floranton Beach is an oceanside community in the Moorings with luxury oceanfront properties and private beach.

Selected homes for sale at Floranton Beach in the Moorings of Vero Beach Florida ===>
Galleons Condo
Galleons Condo is a oceanfront community of fine condominiums with great oceanviews and the grounds around the community pool and gazebo.

Selected homes for sale at Galleons Condo in the Moorings of Vero Beach Florida ===>
Harbor Inn
The Harbor Inn condominium complex is situated on the riverside of the Moorings conmmunity in Vero Beach. It is convenietly located next to the marina for the yachtsmen who want convenient lodgings near the Intracoastal Waterway.

Each condo unit is 2 bedroom, 2 bath suite overlooking the Moorigs harbor, ands a short walk to the beach, goilf course, tennis courts and the Moorings club.

Selected homes for sale at the Harbor Inn in the Moorings of Vero Beach Florida ===>

Harbour Side
The Harbour Side condominium complex is also situated on the riverside of the Moorings conmmunity in Vero Beach.

Each condo unit is 2 bedroom, 2 bath suite overlooking the marina and the wide open lawns. Residents enjoy covered parking, two tennis courts, a large heated pool and spa, as well as a cabana.

Selected homes for sale at the Harbour Side in the Moorings of Vero Beach Florida ===>

North Passage
The North Passage community in the Moorings of Vero Beach is situated right on the Indian River and ICW. Each condo unit has its own private deep water mooring. the North Passage condos have spacious two bedroom, two bath floor plans.

Condo usits have terraces or balconies, enabling residents to take full advantage of everchanging waterway vistas.

Selected homes for sale at the North Passage in the Moorings of Vero Beach Florida ===>

Porpoise Pointe and Bay Villas
The Porpoise Pointe is a riverfrom condominium community that offers private docks, one of the most protected harbors in The Moorings of Vero Beach, and spectacular views across the Moorings Bay to the Indian River.

Porpoise Bay is a community of cottages and townhouses situated along the golf course on Porpoise Bay. These beautiful townhouses are just a short walk from The Moorings Club.

Selected homes for sale at the Porpoise Pointe and Villas in the Moorings of Vero Beach Florida ===>

River Mews
River Mews is a small Mediterranean-style village and gated community in the Moorings of Vero Beach, with fountains, tile roofs, white walls, and lush Florida landscape.

There are two and three bedroom villas and townhouses with spacious sun-filled rooms opening onto private courtyards, that offer privacy and provide the perfect setting for enjoyment and entertainment.

Selected homes for sale at the River Mews in the Moorings of Vero Beach Florida ===>

South Passage
South Passage is a riverfront condominium community in the Moorings of Vero Beach. South Passage is situated acrosss the bay from North and West Passage, with uniquely designed townhouses overlooking the Indian River.

South Passage residences include a private dock. A club house with heated pool and entertainment facilities is also available.

Selected homes for sale at South Passage in the Moorings of Vero Beach Florida ===>

Spinnaker Point
Spinnaker Point is a riverfront condominium community in the Moorings of Vero Beach. Spinnaker Point is well suited for the yachtsmen with each residence having its own private deep water mooring.

Each condo unit has sweeping views out to the Intracoastal Waterway or Moorings Bay from large terraces.

Selected homes for sale at Spinnaker Point in the Moorings of Vero Beach Florida ===>

West Passage
West Passage is a riverfront condominium community in the Moorings of Vero Beach situated right on the Indian River.

Each condo unit has view of the Intracoastal Waterway from a large terrace or balcony.

Selected homes for sale at West Passage in the Moorings of Vero Beach Florida ===>